"Music I have always loved.  He who knows music has a good nature… And before a young man is ordained into the ministry, he should practice music in school." Martin Luther
Lutherans like to receive their theology straight up with a shot of four-part harmony, which is why its hymnody is one of the great glories of the Lutheran church. I'm biased by birth, but I don't care: note for note, word for word: I'll hold out that Lutheran hymnody can take down any other competitor and not a few ostensibly theological texts as well.
I love your stuff, Mr. Wesley and Mr. Watts, but  even your work (and your stuff is great, kids, great. Am very much looking forward to belting out "Lo He Comes on Cloud Descending" very soon.) can't compete with the hymns written by today's three contenders: Johan Heermann, Paul Gerhardt, and Phillip Nicolai. Yes, if you didn't grow up accustomed to their complex rhythms, Lutheran hymns can be hard to sing. They are not the music of the modern church: You have to concentrate when you sing a Lutheran hymn. There's a lot going on; there's a lot to think about. As befits their Germanic origins, Lutheran hymns are the meat and potatoes of Christian hymnody (and occasionally the most intoxicating wine). Like soft foods and candy, praise songs have their place, but when you want meat, you want to turn not to the the fortunate and the happy (and we are all pretty fortunate and happy in our day) but to those  who have suffered.
And Johann Heermann (1585-1647) suffered. Even by the standards of his day, which had high suffering standards, Heermann suffered. Starting with a severe childhood illness, which caused his mother to vow to God that if Johann survived she would have him educated, Heerman endured a lifetime of physical suffering.  From an eye disease that ended his university career to a lung disease that appears to have killed him slowly over 25 years, Heerman was intimately acquainted with affliction. Add to that that he was a pastor during the Thirty Years War so around him he saw plenty of other suffering, death, and destruction.  His acute awareness of man's lack of control over his life come through with poignancy and beauty in his great Lenten hymn, "Ah, Holy Jesus."
Ah, holy Jesus, how hast Thou offended,
That man to judge Thee hath in hate pretended?
By foes derided, by Thine own rejected,
O most afflicted.
Who was the guilty? Who brought this upon Thee?
Alas, my treason, Jesus, hath undone Thee.
'Twas I, Lord, Jesus, I it was denied Thee!
I crucified Thee.
Lo, the Good Shepherd for the sheep is offered;
The slave hath sinned, and the Son hath suffered;
For man's atonement, while he nothing heedeth,
God intercedeth.
For me, kind Jesus, was Thy incarnation,
Thy mortal sorrow, and Thy life's oblation;
Thy death of anguish and Thy bitter passion,
For my salvation.
Therefore, kind Jesus, since I cannot pay Thee,
I do adore Thee, and will ever pray Thee,
Think on Thy pity and Thy love unswerving,
Not my deserving.
Compared to Heermann, Paul Gerhardt (1607-1676) had a soft life. He only had to endure the vicissitudes of the Thirty Years War, get thrown out of jobs and into exile due to his theological beliefs, and watch four of his five children die before the age of 10. A cakewalk.
Born near Wittenberg to a prosperous middle class family, Gerhardt was educated at the University of Wittenberg beginning in 1628 and graduating in 1642 (and you thought five years is a long time to get your degree).  From his ardent Lutheran profesors, Paul learned that hymnody could be a useful, nay necessary tool, of pastoral care and instruction.  And he took that lesson to heart, writing over 100 hymns, many of which are still in use.   Despite the turmoil of his life, his hymns are notably for their serenity and trust as exemplified in the beautiful "Nun Ruhen Alle Walder" ("Now All the Woods Are Sleeping").
Now all the woods are sleeping,
 And night and stillness creeping
, O'er city, man, and beast;
But thou, my heart, awake thee,
To prayer awhile betake thee,
 And praise thy Maker ere thou rest.
My Jesus, stay Thou by me, 
And let no foe come nigh me,
 Safe sheltered by Thy wing;
 But would the foe alarm me,
O let him never harm me,
 But still Thine angels round me sing!
My loved ones, rest securely,
 From every peril surely 
Our God will guard your heads;
 And happy slumbers send you,
 And bid His hosts attend you,
 And golden armed watched o'er your beds.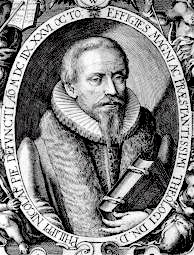 Gerhardt has been called the Charles Wesley of Germany ( Sorry, Chuck. I love you, but Paul is better.) and  been compared to the great English metaphysical pastor poet  George Herbert…Sorry, Paul: you just got outclassed. But there is  German pastor hymnodist who could stand toe-to-toe with George Herbert: Phillip Nicolai (1556-1608).  If you think this is an unfair comparison because Nicolai is famous for only two hymns written after he had watched the plague kill 1300 of his parishioners whereas Herbert wrote close to 70 poems, you must also take into consideration Nicolai wrote his own tunes.
Indeed Nicolai is one of the last hymn writers in the Meistersinger tradition, where, ignoring all that comparative advantage chat, you were supposed to write, words, melody, and harmony.  In Phillip's case however, he was so good at his work that  comparative advantage almost was his, except that some years after Phillip's death  a Lutheran musician came along who thought, "This stuff is good, but I can make it better." And by golly he did:
And here is Nicolai's other great hymn, "Wie schön leuchtet der Morgenstern", in more simple performance. (Though I suspect Papa B. is still in here playing about with the harmonizations.  It's hard to escape Papa B.'s harmonizations.)
Partake of the food of love: go forth and sing!